Tommy
From Whitescarver.com
02/14/2009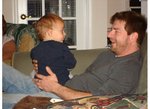 I want to thank our friends and family for the gracious outpouring of sympathy and support in our time of grief over the loss of our son Tom. We have received beautiful flowers and scores of cards and letters and phone calls. It is truly heart warming and encouraging. The Momorial party for Tom on Saturday Febuary 7th at our house was awesome.
The following video was published by GAR on Tom's MySpace: http://www.youtube.com/watch?v=E-1JqAEo1Sw&eurl
In response to public outcry to honor our son in some special way we have initiated steps with our community to install a park bench in the public right of way at the end of Calumet Court and plant a tree with memorial plaque to display in the Marsh Mansion.
The memorial fund that was set up set up to finance this effort and settle Tom's estate business was a success. Anyone else who wishes to contribute to this fund may do so as follows:
For Benefit Of Tom Whitescarver Memorial
P. O. Box 111
Gainesville VA 20156
(Payable to: F. B. O. Tom Whitescarver Memorial)
Others may wish to contribute directly to the American Heart Association in Tom's name. This can be done on line at the following:
http://amha.convio.net/goto/Tom.Whitescarver
Again, Phyllis and I thank you all for your thoughts and prayers and loving encouragement.
Back to BillAndPhyl